Animal power in farming system
edited by
Paul Starkey and Fadel Ndiamé
363 pages, 26 photographs, ISBN 3-528-02047-4
First published 1986 by GTZ, Eschborn and Vieweg, Braunschweig,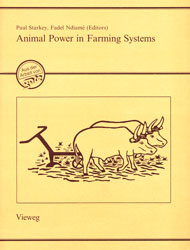 The workshop on "Animal power in farming systems" of the West Africa Animal Traction Network was unique in many ways. It brought together people from 20 countries and a broad range of ecological zones. The participants were specialists in widely differing fields: agricultural engineering, agronomy, animal science, anthropology. economics, extension, sociology, soil science and veterinary science. Their diversity of background was matched by their differing roles in development, for they included researchers, planners, administrators, aid-agency representatives and those activity implementing agricultural development programmes. Their common link was their purposeful interest in introducing, intensifying of diversifying the use of animal power in farming systems. As a result, the atmosphere at the workshop was linked to eighty experienced consultants from different agencies and backgrounds all working intensely together to try to find technical and organizational solutions to their common problems.
In this comprehensive volume the experiences and lessons of the workshop are clearly presented. In addition, through their prepared papers ( 22 in English, 12 in French) participants describe and analyse their professional experiences in animal traction. Throughout these carefully edited proceedings run the themes of the diversity of experiences, the complexity of the farming systems and the desirability of greater information exchanges.
This book, containing contribution from 51 authors, provides a wealth of idea and experiences on the problems and possibilities for development animal traction, and will be valuable to all those interested in this important field of agricultural development.
Animal power in farming systems (L'énergie animale dans les systèmes agraires)
Les actes d'un atelier régional du Réseau Ouest Africain sur la Traction Animale avec 12 articles en langue française (et 22 en anglais) qui présentent quelques expériences de traction animale en Ethiopie, en Guinée, au Mali, au Niger, au Sénégal et au Togo.
See below how to download workshop report and individual papers